---
J. W. has sent you a message.
Date: 12/01/2010
Subject: Sorry
Sorry, 48073, but I'll not be approving your membership in the xx Forum on LinkedIn.
As progressive as I like to think I am, hiding one's identity behind a number lends itself to being inordinately outspoken in discussions with impunity. If you were to join under your real name, we will be more than happy to accept you into the group.
---
Subject: Your profile has been disabled
Date sent: Thu, 4 Sep 2008 14:33:38 +0200
To: "48073" <48073@48073.com>
From: xx
Dear Mr Artist,
The name in your profile seems to be inaccurate. For that reason, we
would like to ask you to check the information in your profile, and to
change any information that might be incorrect. You can login to xx
and make all changes on the "My Profile" page, provided you
remember
your login information. You can do this even though your account has
been frozen.
xx is a person-based b2b platform. If you enter a fake name, for
example, this is at odds with the basic principle of the platform,
because it does not correspond to a real person.
Under a fake name, you remain anonymous, and this does not match
the
intended purpose of xx profiles: to allow other members to gain an
impression of you as a person. Please understand that we are unable
to
make an exception in this case; if we began to do so, the platform
would soon be filled with fake profiles, and the basic premise of xx
would be lost.
Regards,
xx-Team
---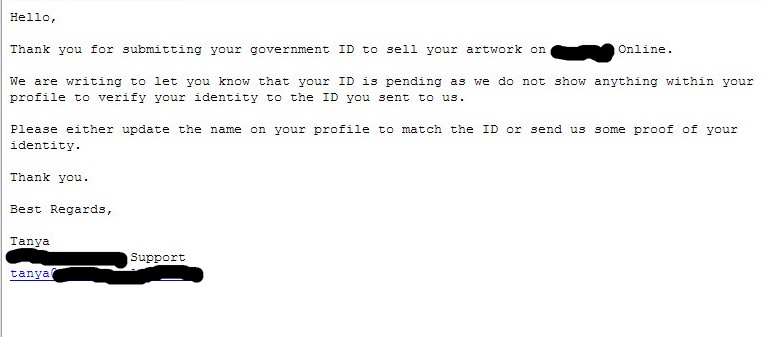 ---
---
From J. S. N. to You
Sent Dec. 7, 2009
come on!
I don´t accept your submission as long as you are not willing to tell me
your real name. This is one of the rules. Everybody has to submit under
his/her real name. I am telling you my real name and i want you to sign
agreement with your real name. If you don´t accept this, there will be no
collaboration between us on this project.
best
J.
---